Team Associated B6D on korvattu uudella B6.1D autolla: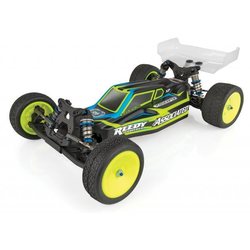 Erikoishinta
329.00 €
(Suositushinta 369.00 €)
Nyt markkinoiden monipuolisin takaveto krossarin Hobbyfactory special edition
Mukana tulee sekä liukkaan radan että kovan pidon osat mukana, tämä on markkinoiden monipuolisin takavetoauto
Team Associated B6 ja B6D ovat markkinoiden suosituimmat kilpaautot mutta kumpi kannattaa valita sinun radalle? Nyt ei tarvitse enää miettiä, Team Associated B6 Hobbyfactory Editionissa tulee mukana molemmat, ja mitä parhain SAMAAN HINTAAN kun normaalisti saat vain toisen version.
Hobbyfactory Editionissa saat sekä Laydown auton ja Dirt auton tärkeimmät osat. Yhdistelemällä näitä saat varmuudella toimivan auton joka ikisellä radalle.
Dirt paketin lisäksi saat:
-Ratasdiffin
-Laydown osat
Tuotteet jotka sisältyvät: 
-91462 
-91463
-91709
-91465
-91708
-91715
-91716
-91605
-31448
Kaikki osat tulevat kaupan päälle
Team Associated RC10B6 on markkinoiden suosituin ja menestynein takaveto krossari. Team Associated on voittanut takavetoluokassa enemmän maailmanmestaruuksia kun kaikki muut merkit YHTEENSÄ. Team Associated on aina ollut markkinoiden edelläkävijä takavetoluokassa ja Team Associated on menestynein merkki kilparadoilla. 
Team Asscoiated autot ovat suunniteltu niin että ne ovat suoraan paketista loistavat ja toimivat heti. Team Associated tarjoa autostaan kaksi versiota, B6 ja B6D. B6 on kovemmalle pidolle suunniteltu ja B6D on suunniteltu liukkaalle pinnalle. Isoimmat erot ovat B6 auton Laydown voimansiirto ja ratasdiffi kun taas B6 autossa tulee kolmirattainen standup voimansiirto ja kuuladiffi. Muita eroja on esimerkiksi etutukivarret ja etutorni. Hobbyfatory suosittelee lähes kaikille sisäradoille B6 auto mutta jos rata on hyvin liukas B6D toimii paremmin. Röykkyisellä ulkoradalla Team Associated B6D on sopivampi kun taas matolla ja kovemmalla pidolla B6 on parempi 

Champions by design. 1:10 scale 2WD off road has been Team Associated's signature class since the release of the RC10 in 1984. The Team Associated RC10 buggy series has won 12 of the 16 I.F.M.A.R. World Championships contested since the racing class began. In fact, every Team Associated 2WD buggy platform ever released has won at least one I.F.M.A.R. World Championship!
Divide and conquer! In today's racing, traction dictates your setup -- period! With both B6 and B6D configurations available, getting to the top of the podium has never been easier. Out of the box, the B6 offers racers a setup developed for high to very-high traction, whereas the B6D excels when traction is low to high. Racing at multiple tracks, or where traction changes throughout the day, has never been easier; setups and tuning parts are interchangeable between the two configurations, making the B6 platform extremely versatile. Both versions come with the speed, durability and lineage expected of a true champion. Choose the configuration that suits your track and conquer the competition!
This vehicle needs extra parts to make it operational. Click on the SPECS tab above to see what extra equipment you'll need to make the vehicle operational, such as motor and battery pack. RC10B6D Team Kit shown on these pages equipped with items NOT included in kit: Reedy motor, battery, ESC, servo, XP receiver, wheels, tires, and pinion gear. Body comes clear. Assembly and painting required.
Features
Clay/Hard Dirt/Loose Dirt configuration
Standup 3-gear Stealth(TM) transmission: more rearward weight for increased rear traction
Ball differential: more rear traction and stability
Flat front arms with narrower shock tower: more responsive steering and quicker release out of corner
Hard anodized aluminum pocketed chassis included. Optional weights (not included) allow weight bias tuning.
Centralized motor positioning for optimum side-to-side balance
Repositioned A plate provides maximum front end clearance
One-piece steering blocks with bolt on Ackermann plate
Lightweight and durable aluminum C plate and aluminum ball stud mount
Updated ball cups and turnbuckles for precise adjustments and durability
Adjustable battery hold-down strap allows weight bias tuning
Aluminum front axle and rear hexes for less rotating mass and long-lasting durability
V2 12mm "Big Bore" threaded aluminum shocks with 3mm TiN coated shafts and low friction x-rings for improved smoothness
Factory Team Aluminum Shock Bushings provide stable shock mounts
Heavy-duty rear axle for added strength
Factory Team upgraded ball bearings
Team Associated clear body and screw-mounted wing by JConcepts(TM)
Vehicle Specifications
Electric
Off-Road
Buggy
1:10 Scale
Kit*
varies
varies
280mm (11.02in)
varies
2WD
* This vehicle comes as a kit and must be fully assembled by the user. Electronics and/or an engine/motor may be required.

Required to Complete
1:10 scale 540-size electric motor
1:10 scale electronic speed control
7.4V LiPo or 6.6V LiFe battery (shorty pack, saddle pack, or square pack) Saddle Pack and Square can be used, but you must remove the battery strap #91731 -- the battery must be held in with 2 sided tape.
Battery charger (able to charge one of the batteries mentioned above)
2-channel surface transmitter, and its batteries
2-channel receiver
Steering servo
Pinion gear (48 pitch)
Polycarbonate-specific spray paint for body
1:10 scale buggy wheels
1:10 scale buggy tires
Glue for tires and wheels