Nelivetoinen Traxxas Rustler 4x4 XL-5 on loistava valinta sinulle joka haluat nopean ja mukavan harrastauton. Rustler 4x4 tarjoaa nelivedon ansiota hyvän etenemiskyvyn ja matala painopiste tekee auton ajo-ominaisuuksista hyvät. Rustlerillä pystyt vetämään pitkää nelivetoluisua sekä hakea huippunopeuksia.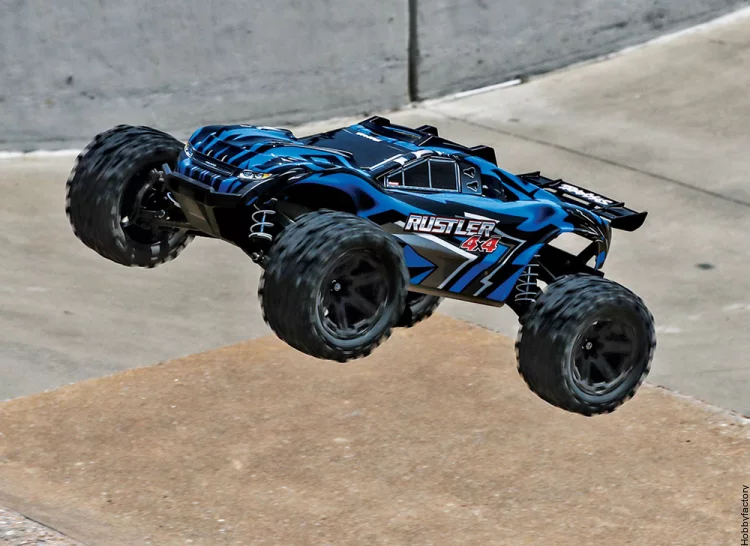 Niin kuin kaikissa Traxxas autoissa nopeudensäätimestä löytyy training mode jolla voit puolittaa tehot jotta ajaminen on helpompi alussa.
Auto tulee paketista ajovalmiina, tarvitset vain ohjaimen 4 AA-paristoa. Laturi on 12v laturi jota käytetään auton tupakkasytyttimestä, mutta voit myös käyttää laturia suoraan verkkovirrasta tämän virtalähteen avulla:
Traxxas 2976G Power Supply 110-240VAC 40W 13.8VDC/3.5A
Laturi lataa akun noin tunnissa täyteen ja iso akku antaa hyvän ajoajan.
Rustler 4X4 1/10 4WD Stadium Truck with Titan 12T 550, XL-5 ESC including NiMH Battery & Charger
A New Breed of Stadium Truck!
The Rustler 4X4 is a new breed of stadium truck. Rustler 4X4 combines the agility and speed of the Rustler but with 4-wheel drive performance, increased durability and even more fun! Underneeth the reinforced clipless bodyshell, the all-new 4WD chassis sits lower, with a wider stance and longer than ever before for increased stability and handling. The waterproof XL-5 electronic speed control and Titan® motor deliver a high horsepower level and all-weather fun. Large Talon™ EXT tires provide versatile grip on any surface - from backyard trails to concrete skate parks. Rustler 4X4 destroys convention to become the new standard for 4x4 stadium trucks!
Rustler 4X4 Specifications:
Length: 457mm
Front Track: 329mm
Rear Track: 329mm
Center Ground Clearance: 27mm
Weight: 2.15kg
Height (overall): 161mm
Wheelbase: 295mm
Shock Length: Long (front), XX-Long (rear)
Tires: Talon™ EXT with Foam Inserts
Tire Diameter: 114mm (front and rear)
Wheels (front/rear): 2.8" Black Multi-Spoke (1/2-offset)
Wheel Diameter: 2.8" (71mm)
Speed Control Type: XL-5™ Electronic Speed Control
Motor (electric): Titan® 12T 500 (12-turn)
Final Drive Ratio: 21.11:1 (stock, out-of-box)
Differential Type: Hardened Steel Bevel, Sealed, Limited Slip
Gear Pitch: 32
Chassis Structure/Material: Molded Tub / Nylon Composite
Drive System: Shaft-Driven, Direct Drive 4WD
Steering: Dual-Bellcrank with Integrated Servo Saver
Radio System: TQ™ 2.4GHz (2-channel)
Body: Clipless ProGraphix®
Skill Level: 1
Battery Tray Dimensions: 143 x 50 x 25mm
Required Items: 4 "AA" Batteries (transmitter)
XL-5 (WATERPROOF) ESC SPECIFICATIONS:
Input voltage: 4-7 Cells (4.8 to 8.4 Volts DC)
Case Size: W31 x D55 x H15mm
Weight: 2.44 Ounce
Motor Limit: 15-turns** (540 Size) / 12-turns** (550 Size)
On Resistance Forward: 0.007 Ohms
On Resistance Reverse: 0.014 Ohms
BEC Voltage: 6.0 VDC
BEC Current: 1A
Power Wire: 14 Gauge / 127mm
Input Harness Wire: 26 Gauge / 228mm
PWM Frequency: 1600 Hz
Low Voltage Detection (LVD): 2-Stage indicators, switchable (on or off)
Thermal Protection: Thermal shutdown
Single-button setup: Yes, Traxxas EZ-Set®
Profile selection:
Sport Mode: 100% FWD, 100% brakes, 100% REV
Race Mode: 100% FWD, 100% brakes, no REV
Training Mode:* 50% FWD, 100% brakes, 50% REV