Team Associated:in uusin nelivetokrossari jatkaa Asson B74 mallistoa ja tämä uusi B74.1D on kehittynyt edeltäjästään vieläkin paremmaksi.
Uudistuksiin kuuluu esimerkiksi vakiona tuleva keskidiffi, C ja D palat ovat uudistettu ja akku kotelo on uudistettu.
Muita uudistuksia ovat esimerkiksi:
- Normaalikorkuiset ja matalaprofiili akkukinnikkeet
-Uudet kestävemmät 16mm ulostulot
-Uudistettu takasiipi
-Uudistetut tukivarret (enemmän säätövaraa iskareille sisälaitaan)
-Uudistetut kestävemmät takahubit
-Uudistetut ohjauspalat
-Uudistettu runko
-Uusi teline nopeudesäätimellä ja valmis paikka moottorituulettimelle
Uusi B74.1 on suunniteltu liukkaalle pidolle ja auton setuppi on kehitetty liukasta pitoa silmällä pitäen. Tähän kuuluu esimerkiksi ohuemmat vakaajat, vakio jousien päivitys, iskareiden pituutta on hienosäädetty, tornit ovat laskettu sekä edessä että takana, +3 steering rack ja 6.0mm takahexi.
B74 autosta tutut ominaisuudet:

Koko auto on uudistettu lähtien uudesta pohjalevystä, uudet iskaritornit ja uudet diffiboksit. 2mm 7075-T6 alumiininen pohjalevy ja uudet runkojäykistimet ovat parantaneet auton flex:iä ja pitävät painon matalana. Uusissa diffibokseissa on uudistettu tornien paikkoja ja kestävyyttä sekä parannettu kestävyyttä alumiini osilla.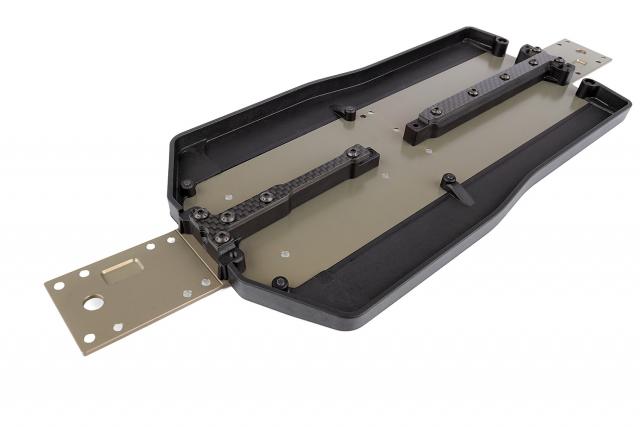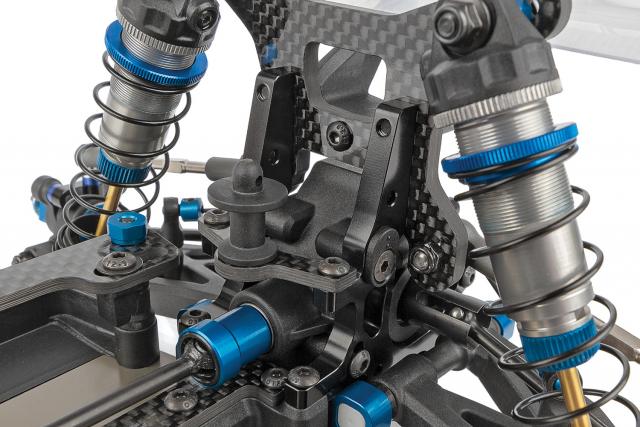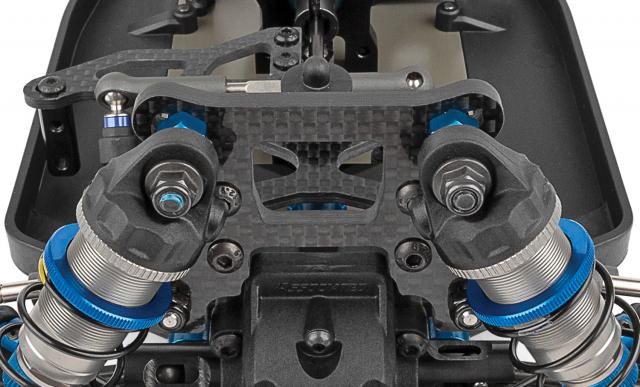 Uudet diffiboksit ovat varusteltu innovatiivisella korkeudensäädöllä joka parantaa auton säätömahdollisuuksia todella paljon. Myös uusi alumiininen ackermanlevy näkyy kuvissa. Diffin korkeudensäätö tarjoaa todella hyvän säätökohteen ja sillä pystyt suuresti vaikuttamaan miten auto lähtee mutkista ulos. Pystyt myös optimoimaan diffinkorkeuden riippuen ajokorkeudesta tehden autosta vieläkin monipuolisemman ilman kompromissejä.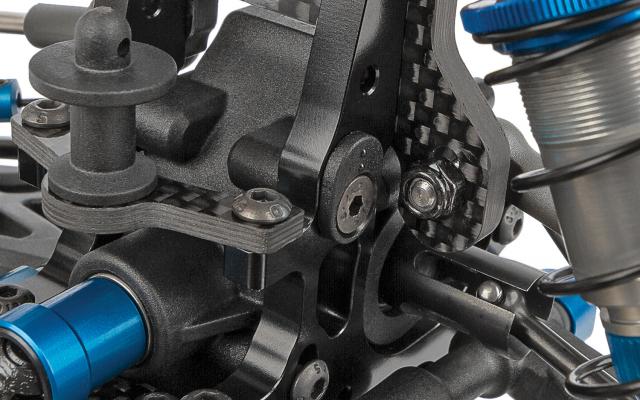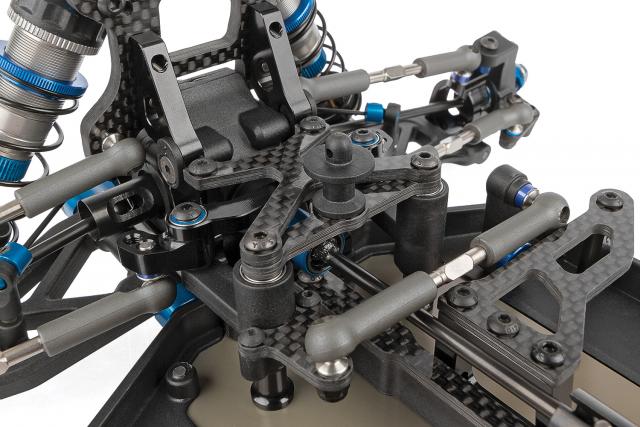 Voimansiirtoa on uudistettu ja vakiona tulee uudistettu slipperi. Uusi slipperi käyttää 3 slipperilevyä parhaan mahdollisen suorituskyvyn saamiseksi. Uudessa slipperissä on myös sama pituus kun keskidiffissä eli enää ei tarvitse vaihtaa kardaaneja kun vaihdat slipperin ja keskidiffin välillä.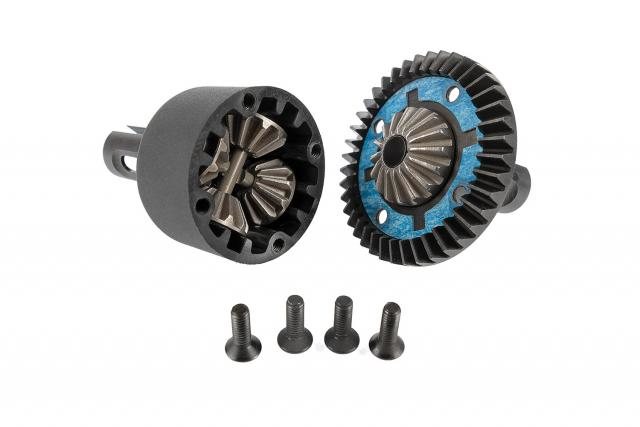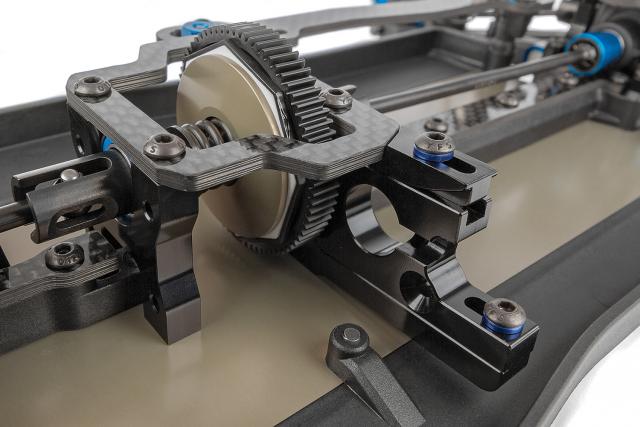 Hubit ovat uudistuneet ja uusi takahubi tarjoaa lähes rajattomat säätömahdollisuudet. Uudessa takahubissa ylälinkin kiinnityskohta on säädetävissä sekä pituus että korkeussuunnassa helposti prikoilla joka helpotta täydellisen geometrian löytämisen. Hubin alapään kiinnitys on myös säädettävissä. 9 asteen caster palat 7075T6 alumiinista antavat autolle kestävyyttä ja suorituskykyä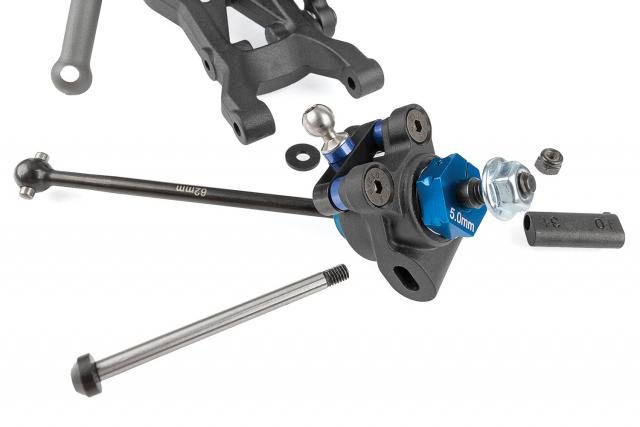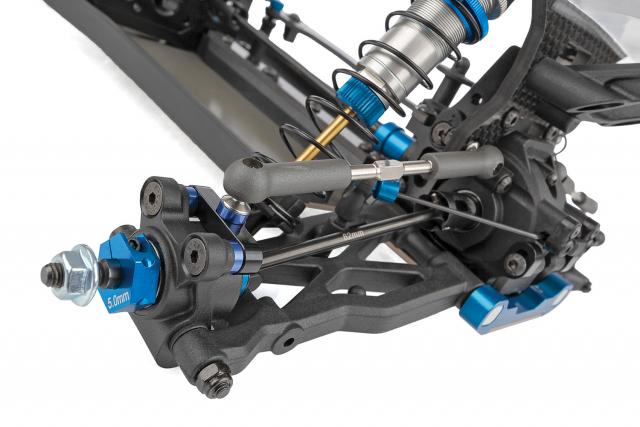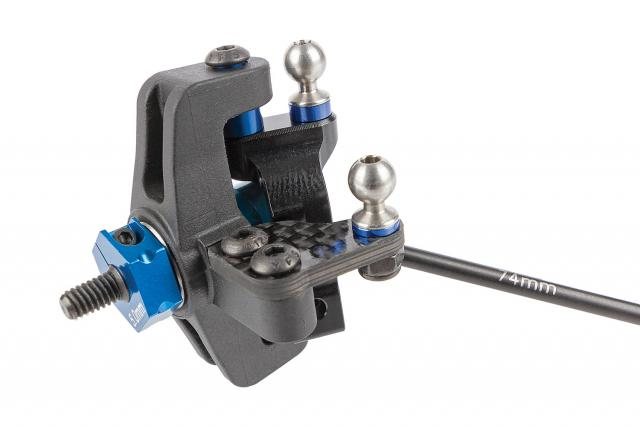 Tukivarret ovat kokonaan uudet. Uudet kestävemmät tukivarret parantaa auton kestävyyttä ja suorituskykyä. Takatukivarret ovat vaihdettavissa ristiin ja vaihtamalla niitä puolelta toiselle iskarin alapäätä voidaan säätää äärimmäisellä tarkkuudella.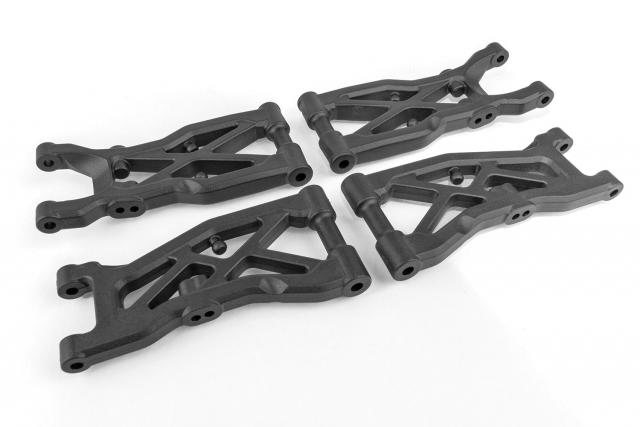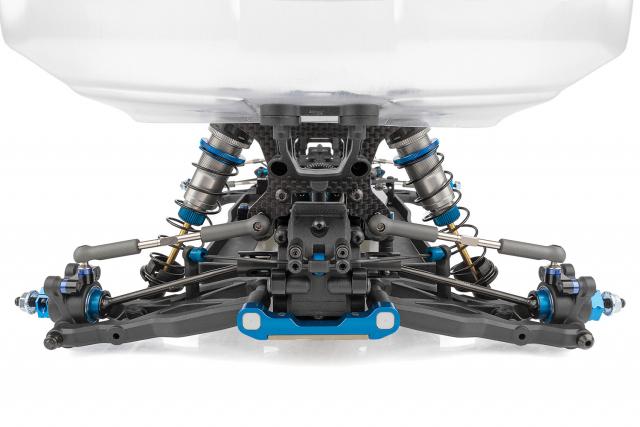 Auto on helppo huoltaa ja säätömahdollisuudet ovat rajattomat. Helposti huolettavat diffit ovat jo assossa arkipäivää ja B74 autossa saat diffin irti helposti pienellä määrällä ruuveja.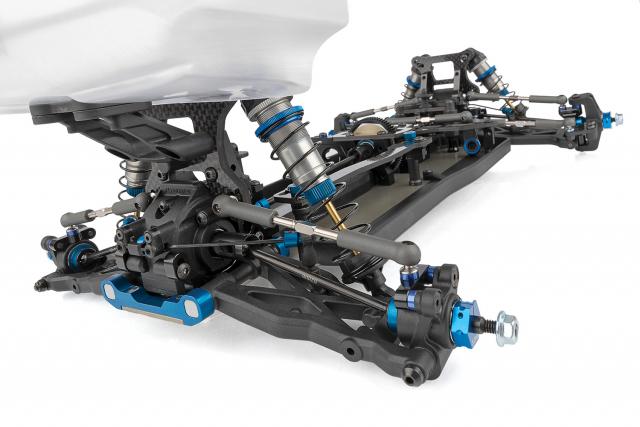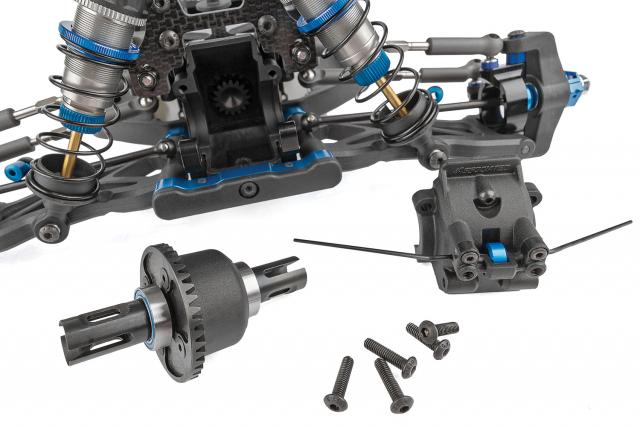 Team Associated is proud to introduce the newest 1:10 scale 4WD electric off-road buggy kit, the RC10B74!

The off-road RC car racing scene has taken a turn over the past couple years, with turf and carpet racing becoming more popular and grip levels at an all-time high. The engineers inside Team Associated's Area 51 were quick to address this trend in the 4WD class with the RC10B74 Team Kit. This completely new chassis design, equipped with a long list of features, is designed to give you the winning edge.

Competition levels are more extreme than ever, with several manufacturers producing competitive racing platforms. The RC10B74 was designed with focus on performance and durability. New features like the easy-access, quick-change differential height make tuning for different track surfaces and ride heights quicker than ever. 7075-T6 aluminum bulkheads and arm mounts provide precision and durability, while the updated shocks with increased stroke length allow for more consistent jumping and landing. Also included, an all new rear hub assembly with a modular vertical ball stud mount and axle height insert system to allow the finest roll center adjustments possible. With many other new features, the RC10B74 Team Kit gives you all the performance and adjustability necessary to keep you racing at the front of the pack.

Features

-2mm hard-anodized 7075-T6 aluminum chassis provides improved flex characteristics and minimal mass
-2.5mm graphite center bulkhead brace for improved stiffness and reduced mass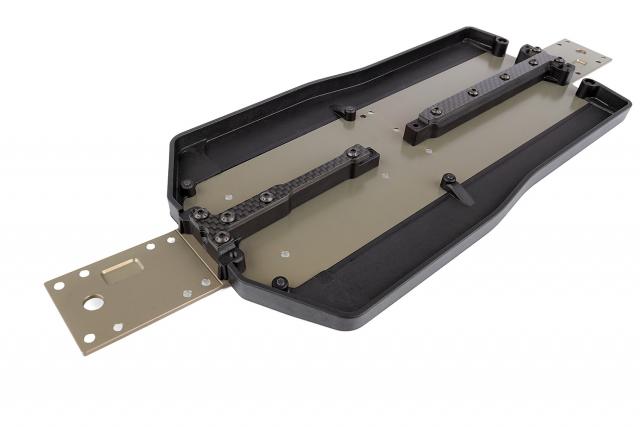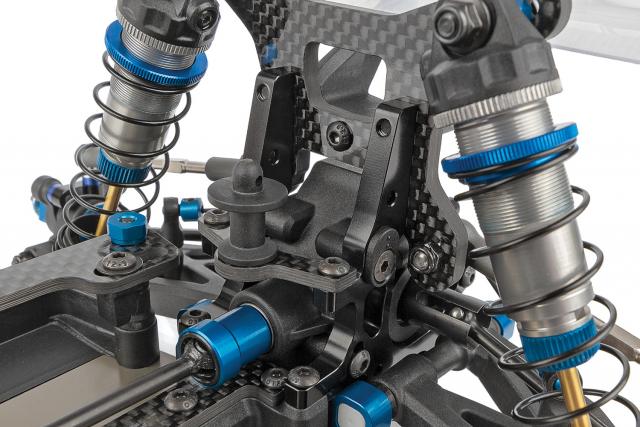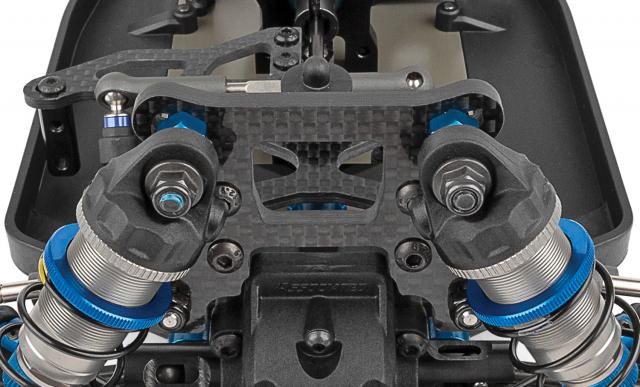 -Ball bearing raced 7075-T6 aluminum steering rack and composite steering bellcranks with 2.5mm graphite input arm offers optimized Ackermann and adjustable steering rate
-Quick-change adjustable differential height with 7075-T6 aluminum bulkheads. Four independent front and rear diff heights possible.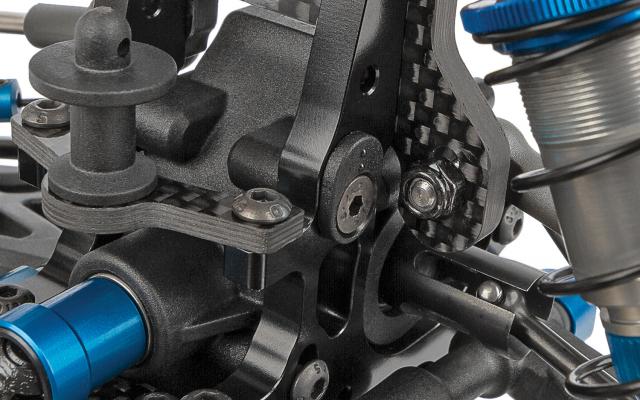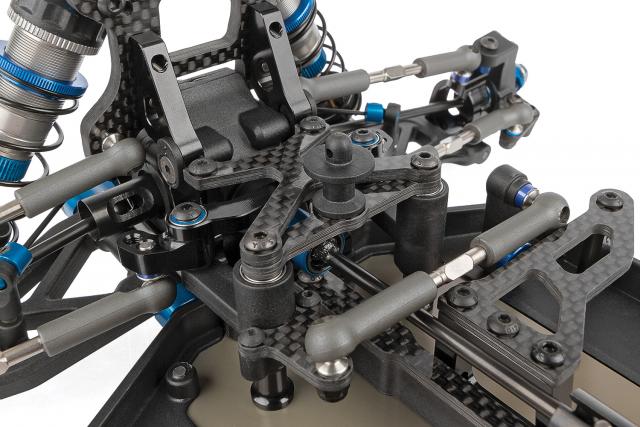 -7075-T6 aluminum motor mount and 7075-T6 aluminum center bulkhead have increased rigidity to maintain more accurate gear mesh
-Fluid-filled gear differentials with machined ring gears, front and rear
-Updated 3-pad slipper assembly allows use of center differential without changing center bone length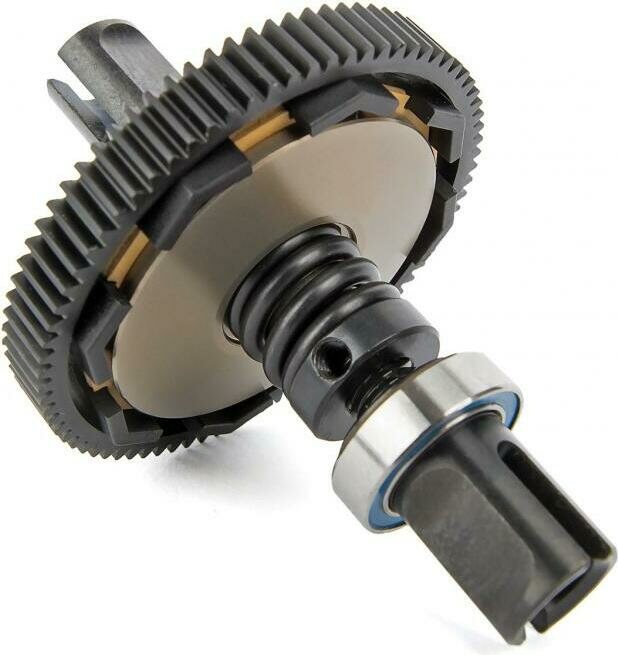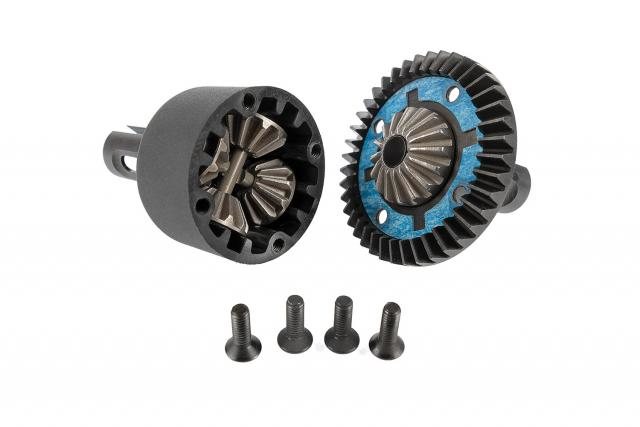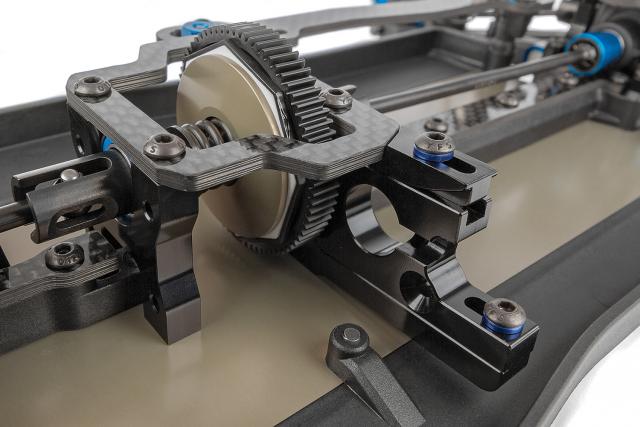 -New steering blocks with larger outer ball bearing and increased bearing spacing for improved durability
-7075-T6 aluminum 9 degree caster blocks
-New rear hub assembly with modular vertical ball stud camber link mounts and axle height system for precise roll center adjustments
-Outer rear hinge pins captured with bolt head and lock nut for increased durability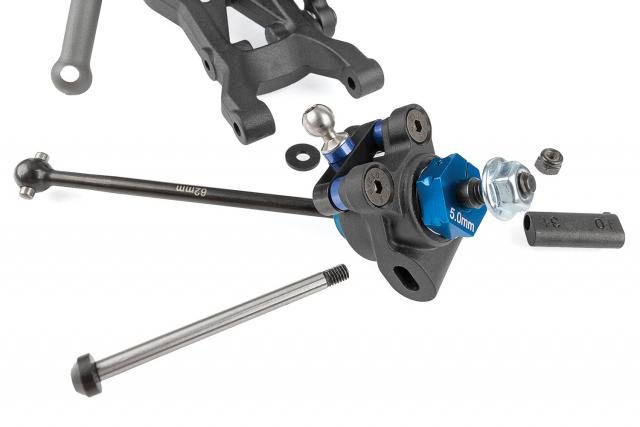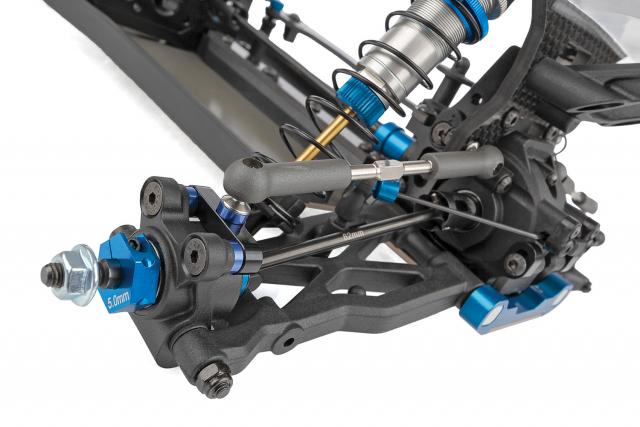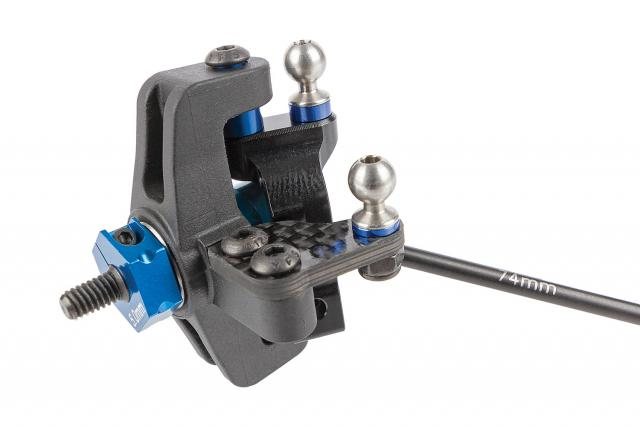 -Optimized suspension arm geometry with improved durability and stiffness
-New symmetric rear arms with improved geometry can be flipped to allow a "split" for rear shock mounting position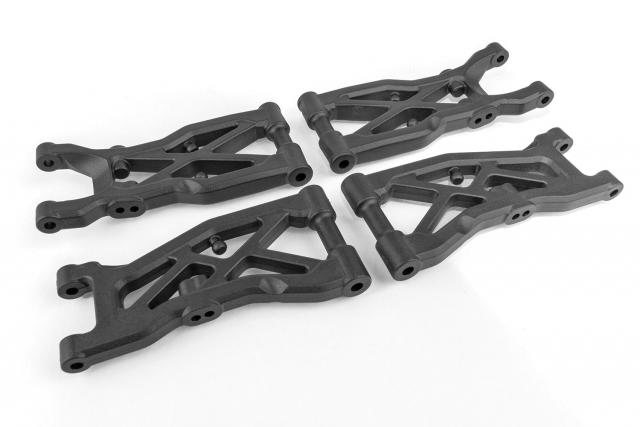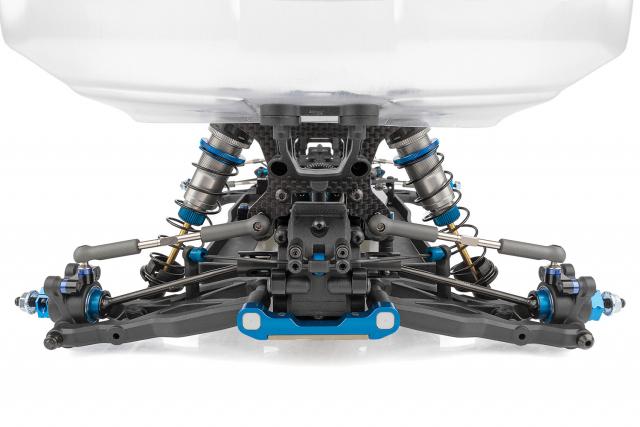 -Easy-access differentials for worry-free maintenance and adjustment
-7075-T6 aluminum arm mounts with optimized roll center positions use inserts, which allow fine tuning for a large range of anti-squat, kick-up, and toe adjustments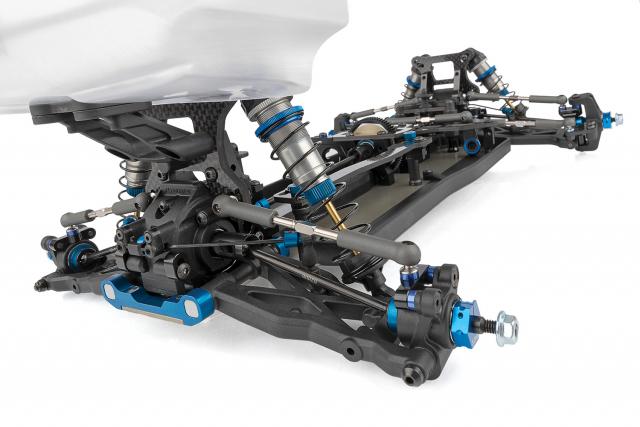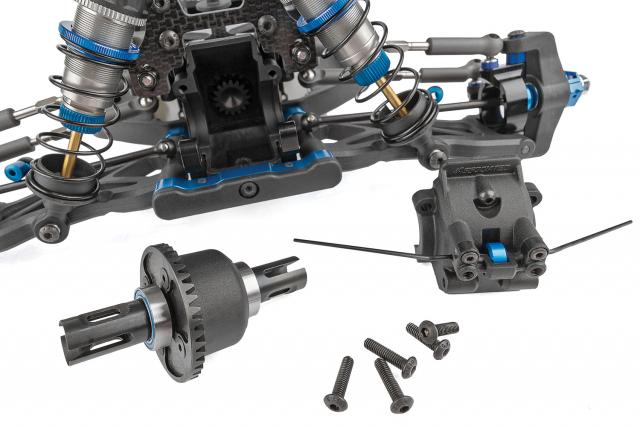 SHOCKS:
4mm graphite shock towers front and rear for improved stiffness and durability
V2 12mm Big Bore threaded aluminum shock with X-rings for low friction assembly
New shock lengths front and rear with longer stroke allows increased droop and up-travel for more consistent jumping and landing
Machined shock pistons for more precise fit and smoother operation
V2 12mm shock springs for lower achievable ride height and more nimble feel

OTHER FEATURES:
CVA assemblies for center drive-line with aligned shafts for minimal torque loss and improved efficiency
Common front and rear anti-roll bars to minimize spare part count
Anti-roll bar sets for both carpet/turf and dirt included
New 2.5mm graphite battery strap with sliding support tabs for fine tuning battery position (accepts any R.O.A.R. approved 2S "shorty" packs)
"Floating" servo mount with 7075-T6 aluminum mount and 2.5mm graphite brace
Factory Team ball bearing set with 26 precision ball bearings, now oiled instead of greased for more efficient drivetrain
Aluminum clamping wheel hexes, front and rear
Lightweight clear body and clear wing included

Vehicle Specifications
Power Source: Electric
Terrain: Off-Road
Body Style: Buggy
Scale Size: 1:10 Scale
Assembly Level: Kit*
Length: 395mm (15.55in)
Width: varies
Wheelbase: varies
Weight: 930g (2.05lbs)
Internal
Gear Ratio: 2.50
Drive: 4WD
* This vehicle comes as a kit and must be fully assembled by the user. Electronics and/or an engine/motor may be required.

Required to Complete
1:10 scale 540-size electric motor with 48-pitch pinion gear
1:10 scale electronic speed control
7.4V LiPo or 6.0V LiFe with "shorty" battery dimensions
Battery charger (suited for, and particular to, one of the batteries mentioned above)
2-channel surface transmitter
2-channel receiver
Steering servo
Polycarbonate-specific spray paint for body
1:10 scale off-road wheels and tires
Other helpful items needed: Silicone Shock Fluid, Silicone Diff Fluid, FT Body Scissors (#1737), thread-locking compound (#1596), FT Body Reamer (#1499), FT Hex/Nut Driver set (#1519), CA tire adhesive (#1597), Hobby Knife, Needle Nose Pliers, Wire Cutters, Soldering Iron, Calipers or Precision Ruler